Every Picture Tells a Story...Here are Some of My Favorites:
Carlene Howard took this on May 31, 2022 at the Soroptimists Installation. We love this picture because it shows our connection. We've been a couple for 50 years and married for 48. It was her idea to take the picture. She used my i-phone 13 PRO MAX.
Steph and Buck on May 31, 2022
Stephanie and me at Shugrues on Thanksgiving Day 2018
Sunset from Grandma Doop's Memorial Bench
Sail Surfing near Big Sur, California
Jimmy Blackwood is the leader of the the best known name in gospel music, The Blackwood Brothers Gospel Quartet. We saw them perform on January 20, 2010 in Lake Havasu City, Arizona. They were awesome. The Blackwood Brothers Quartet was formed in 1934 with brothers Roy, Doyle, James and Roy's, son R.W. That heritage of gospel music is carried on today as James' oldest son Jimmy joins tenor great Wayne Little, the smooth bass of Randy Byrd and the baritone singing of Billy Blackwood to present a modern-day version of that great quartet.
www.blackwoodbrothers.com
The Golden Gate Bridge
Western Diamondback Rattler
Cupcake Mountain
Our Children in May 2009 at Steve's Wedding: Ben, Steve, Heather and Rebekah
Our Children just after Steve got married: Ben, Rebekah, Steve and Heather
Cup cake Mountain in Lake Havasu
Flash and the Lion's Dog Park. Not only is this great for dogs to socialize with other dogs but they can be around dog lovers.
Rock Formation at Sedona Arizona
Flash
Steph in Assisi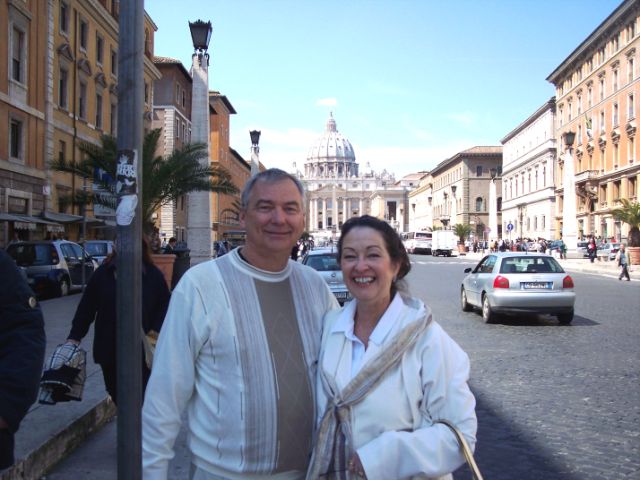 Buck and Steph in front of St. Peter's Basilica in Rome
John Fogerty, singer songwriter and founder of Credence Clearwater Revival performing near Phoenix, Arizona on March 3rd.
Fiddle Player for Taylor Swift on 3.3.2008
Big Horn Sheep at Sara Park
Buck, the Birdman of Havasu underneath the London Bridge
Jonathan Gorchow and Buck Dopp
Jon Gorchow was my boss for about 7 1/2 years which makes him the boss I've had for more years of my career than any other. I feel very fortunate to have worked with Jon at CN8, the Comcast Network. He always supported me and gave me direction and clarification when I needed it. When I needed the freedom to do my thing and be creative, he allowed me the space. Working with Jon was a great balance between support and independence which has caused me to not only grow but thrive. Jon doesn't have a big ego where he has to be the one taking credit for other people's work. Instead, he always credits everyone else for their successes. He was the longest tenured VP/GM of the Comcast Network which in and of itself says a lot about his success and survival instincts. When CN8 was canceled at the beginning of 2009 he continued to work for the programming department of Comcast.

Buck, Mike Doyle and Stephanie
Mike Doyle resigned his position as president of the Eastern Division of Comcast in 2008 after having set the pace for Comcast leaders for many years. Mike's work really helped the company define the role of what a regional vp and division president should be. His legacy and record will stand on its own. He has nothing else to prove to anyone. What surprised me the most about his departing announcement was the absence of talk about all his business and financial achievements with Comcast. Much of it I had personally witnessed. Instead, he shared about his pride in the development of CN8, the Comcast Network which he founded. This picture was taken at my son Stephen's wedding on May 16, 2009. Mike also attended my 50th birthday celebration. We try to be there for each other whenever we can. I will always remain grateful for the many opportunities Mike gave me to run his various operations at Comcast.

Flash and Buck
Sgt. Sam Schoenheit
Marine Sgt. Sam Schoenheit was wounded in Afganistan when a sniper's bullet fragmented into his brain. His recovery has been miraculous. He recently had surgery to replace the part of his skull that had been damaged and removed. It was a complete success and his recovery is now continuing to progress. President Bush pinned his Purple Heart on him at Bethesda and President Bush met with Sam again on Veteran's Day as Sam prepared for the cranioscopy. Please keep Sam in your prayers. Thank you Sam for your service to our country. To read about Sam's story, please click on the link below.

http://www.caringbridge.org/visit/samschoenheit


Michael is the son of my friend, Rev. John McCave. John has informed his friends that Michael has returned from his deployment from Iraq, safe and sound. John is sure that the prayers we all had for his son saved his life while he was over there. God bless you, Michael. Welcome Home! Thank you for your service to our country!

Buck
The Wedding of Capt. and Mrs. McCave
1st Lt. Jonathan Haller, age 24.
1st Lt. Jonathan Haller is a medical officer with the 82nd Airborne's 407th battalion. He is the son of some of our oldest and dearest friends, Dave and Mary Haller from Richmond, Virginia. They are a family of strong Christian believers. Mary has recently informed us that as of November, Jonalthan has returned safely from his deployment to Iraq. Thank God! Welcome home, Jonathan! Thank you for your service to our country.

Buck

Jonathan Haller receives his commission while Mom Mary on the left pins on his officer's bar. Dave, his father is on the right.
Bo and Stanley Reahard in the Rockies
Maryly and Chris Cushingham's 25th Anniversary Picture
Nancy Roberts
Nancy Roberts is one of our longest and dearest friends. She was one of Stephanie's bridesmaids at our wedding in 1973. She is the mother of three beautiful daughters and has five beautiful grandchildren. She works as a professional writer in California. We still keep in touch with her regularly although we haven't seen her in over thirty years. She loves the Lord and is a doting grandmother.

Nancy with Grandson, Gavin
Terry and Constance Mattson and daughters, Ruth and Kathleen. Terry is a 7th grade science teacher in Raleigh, NC. Constance has her own business, staging houses for sale for a realtor. We have known them since about 1981.They are dear friends.
Benjamin, Chris, Patty and Christopher Wegemer from Dover, Delaware. We've known Chris and Patty since 1983 when he and I worked for Storer Cable in Brooklyn Park, Minnesota. He was the Sales Manager and I was a CSR. He helped me to get into sales and when he was promoted to GM, I was promoted to fill his position. I'm sure Chris had a lot to do with that. When I left Dover, for CT, Chris became the GM of Dover, DE in 1987. He is the VP of National Marketing for EWTN and loves his work. I respect Chris and Patty for their faith in God and the way they live it in their lives. The whole family inspire me with their courage, especially their sons. Christopher and Ben. They are a special family and it is an honor to know them.
The Vincelli Family
Marian Handlin and Ann Blackmore
Ann Blackmore has a calling from God to rescue animals that no one wanted. She has countless horses, sheep, ponies, chickens, cats and every other animal you can imagine. She was our next door neighbor when we lived on Dutch Neck Road and she could always be counted on to lend a hand. She nailed every shingle on the roof of our horse stable in 90 degree plus heat. Now that is a friend! Marian has a flock of sheep that she keeps across the road from Ann's place. We join Marian and Ann every Spring for the annual sheep shearing event they hold at her farm.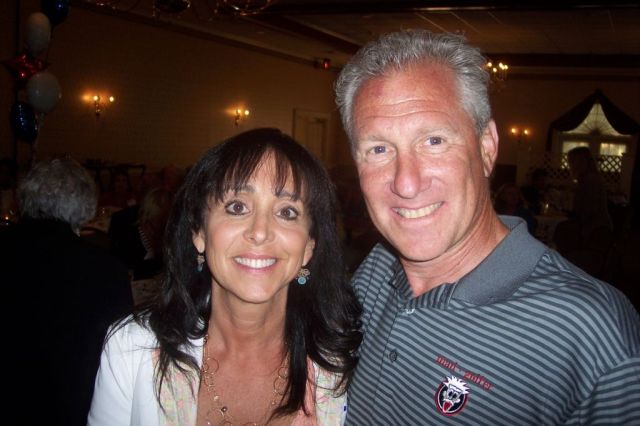 Beryl and Kal Katz
Kal Katz is the owner of Mad Golfer Apparel. To view his web site please click on the link below. Thanks.


http://www.madgolfer.net/

Beryl is the founder of S.A.G.E., Senior Adults for Greater Education. I am a media consultant to this organization which I believe in strongly. It matches retired people with students who need extra help. Read about it by clicking on the link below. Thanks.

http://beasage.com/



Mark Connell at his retirement party
Mark Connell is pictured above at his retirement party. Mark and I met in 1994 shortly after he was hired. We were both on a special customer service task force assembled by Comcast to improve customer service. We later worked together in Union, New Jersey when he ran the 100 plus call center. In an era when it seems like everyone's key to success is to stay off the radar screen, Mark was never afraid to take bold action to solve a problem, even if it meant exposing himself to criticism. He reported to me at that time and he was the hardest worker on our team. He always gave me his frank opinion of things whether or not it rubbed me the wrong way. I loved him for that and for the courage he always showed to do the right thing instead of the most popular thing. Mark is honest, trustworthy and conducts himself with the highest integrity at all times and I am honored to call him my friend.

Mark and Loretta Connell at their pool
John Jerman--John recently retired after a career at Comcast that spanned several decades. He began his career working for a television station in Detroit and as cable companies got involved in ad sales, he became the ad sales insertion guru. He logged many miles getting cable systems throughout the U.S. set up for ad insertion. He solved the glitches during installation and trained the staff. I first met him in Dover, Delaware over 20 years ago when he helped install the ad sales equipment in the system I managed at the time. He came to my cable systems in CT, VA and NJ too, I couldn't get away from him! :) We've stayed in touch through the years and now he lives within a few miles of me. We share a love of photography. On the desk in front of him is one of his newest $700 toys.
Darlene and John Jerman fail in the attemopt to ride a two person bicycle. Well, no one is perfect.
I took this picture of Stephanie with Bill and Karen Black after we had enjoyed a wonderful dinner at their home in Philadelphia. Bill is the Senior Director of Public Affairs for Comcast Corporation and we worked together quite a bit during my last two years at Comcast. Our company was founded by a fine gentleman, Ralph Roberts and I was privileged to work with many gentlemen during my tenure at Comcast. There was no finer gentleman than Bill Black. He's one of several colleagues that I expect to be friends with for the rest of my life.

Tamara and Sergei Gusev
Sergei and Buck square off in a game of chess. We played three games. We each won a game and played the last game to a draw.
Steve, Johanna, Rita and Danielle Migliore at Johanna's college graduation
John Lynn, Rita Migliore and Buck
Stephanie took this picture of me Chubby Checker and his wife, Catharina Lodders who was the Dutch Miss World, 1962. I stood next to Chubby for the picture when he said to me, "Put the sugar in the middle." So I moved to stand beside Catharina. They have three daughters, one is a basketball player at Duke. Chubby was being inducted into Philadelphia's Settlement Music School's Hall of Fame. He was raised in South Philly and born in South Carolina and named Ernest Evans. His nickname was actually Checker. Tony Mammarella Bandstand's Original producer suggested the name Chubby Checker as a take off on the then popular Fats Domino. Chubby Checker is the only recording artist to have five albums in the top 12 all at once. He is most famous for popularizing the song, "The Twist" in 1960. The song is the only song which made number one twice, a year apart when it climbed there again in 1961.

Stephanie, General Norman Schwarzkopf and Buck Dopp. We met in Orlando at the headquarters of Home Shopping Network where he was representing them at a PR function. The General was very soft spoken and told me how much he was enjoying the time he was spending with his grand children. Steph and I had actually just arrived from our first Caribbean Cruise and I hadn't shaved for awhile.circa. 2000
Buck with German Olympic Skating Gold Medalist, Katarina Witt, 2.10.2003. This picture really means a lot to me because of the back story. Every picture has a story behind it. When I see my pictures, I remember the stories. Katarina was in our studio to be interviewed for one of our sports shows. She was promoting a skating event at the Wachovia Center in Philadelphia. I really had nothing to do with the show but watched the interview from the control room. I was really impressed with her beauty and athletic body. When everyone left after the show, she was sitting in the green room with her marketing escort. They were making some phone calls before leaving the building. I timidly walked up to her and asked if she would mind if I took her picture. She replied, "Sure." Now she had no idea who I was or what I did at Comcast. I wasn't even wearing a suit that day. But she treated me with respect and kindness. She said, " Would you like to be in the picture?" I said, "Sure!" She took my camera and gave it to her assistant and set up the shot, asking me to go into the hallway. She then told her helper to take two pictures of us so we would have a safety shot. It was just the three of us for those five minutes and she treated me well. I will never forget that. I think of that story whenever I see this picture. It is the things people do when no one is watching that reveals their true character. Katarina is one classy lady.
Nancy Kerrigan and Buck Dopp
She was in our CN8 studio to do voice overs for her show, "Nancy Kerrigan's World of Skating." She had covered the junior national skating championships and did the analysis of the skaters. She was a very nice lady and showed a lot of patience taping the show in a studio that had no heat.
Nancy was the 1994 Olympic Silver Medalist in Ladies Singles at Lillehammer. She lost to Oksana Baiul of Russia who won the gold that year. That's pretty good considering less than a month earlier she had been clubbed in the knee by a man hired to assault her by an ex-husband of her chief competitor, Tonya Harding.
Nancy lives in Massachusetts with her husband and two young sons, she is pregnant with their third child.
Her skating analysis sounds more like a teacher coaching a student, very detailed with the focus on how the technique should be done. I liked it.
My favorite quote from Nancy Kerrigan is, "... go for the dreams that you have and you will learn that the journey to get there is the most gratifying part."
For more information on Nancy Kerrigan you can check out her official website:
Jon Bon Jovi and Buck Dopp--Jon was most gracious when he came into our studio to promote his Arena Football Team, the Philadelphia Soul. No entourage, just one marketing assistant and they came in an SUV. Jon posed for pictures with everyone. I was most impressed to learn that he was still married to his childhood sweetheart. That's rare for a rock star. Jon has said about it, "I got it right the first time."
Steven Van Sandt and Buck at an event for the Sopranos premiere. Rebekah was along with us but it was before she worked for HBO. Steven plays one of the mobsters on the popular HBO show. He's famous for being a guitarist in Bruce Springsteen's E Street band. He seemed like a very nice guy and he had fingers which were twice the size of mine. Steven has been a big supporter of young bands trying to get exposure. The Sopranos launched in 1999 and has one every imaginable TV award, including a Peabody. In 2004 the Sopranos became the first-- and remains the only--cable series to win an Emmy for a dramatic series.
Hall of Fame Coach and Player, Mike Ditka and Buck Dopp--I suggested that the producer have the host ask Mike why he didn't let Walter Payton score a touchdown when the Bears won the Superbowl since Walter had carried the franchise on his back for years. Ditka replied that on the play that the Fridge scored, it was a triple option and he wasn't necessarily trying to give the touchdown to the Fridge. He also said that in the excitement of the game he didn't realize it until someone told him late in the game that Walter hadn't been able to get a Superbowl touchdown. He said he felt bad about it. He and Walter did get to discuss it before Walter died and they were both able to put it behind them.Ditka was in the studio to promote Viagra in 2003. It was the first time I had heard of Viagra and the first time I had heard of ED. (Erectile Disfunction)
Smokin' Joe Frazier and Buck Dopp
Buck Dopp and Middleweight Champion, Bernard Hopkins--Bernard was about 36 when I met him in 2002 which is old for a fighter to still be fighting. Bernard told me that since he had been in prison for 5 years he was really only 31 years old as a fighter. What he didn't say was that he was a fighter in prison and had won the national middleweight title several times while incarcerated.He is 42 now and still fighting.
Don King and Buck Dopp in 2003--All I can say is, the hair is for real. I'm just not sure Don is.
Buck and Joe Montana--Joe won four Super Bowls and was the MVP of three of them as QB of the San Franciso 49'ers. I asked him if he missed pro football. He said he didn't miss the practices and the traveling but he really missed the excitement of playing the games on Sundays. He's never really found anything to replace that. Joe was cool and really nice to everyone.
Joe Namath, Steve Dopp and Buck--Joe let Steve try on his Superbowl ring and Steve let Joe put on his NJ Championship ring. Joe's was a little bigger and had a diamond in the center of it. Joe was really a great guy and took time with everyone. Joe was the MVP of Super Bowl III and predicted that his Jets would win. They did, over the Colts 16 to 7.
Buck and Ron Jaworski "Jaws", former Eagle Quarterback. Jaws made six figure salaries as a professional football player but was willing to start at the bottom of the pay scale to learn a new profession. He did the Eagles pre-game AM radio show on WIP for $50 per show to get started. In 2007 he replaces Joe Theismann as an analyst on Monday Night Football. Now he's making the big bucks again. Let this be a lesson to us all.
Buck with Billy Cunningham, Philadelphia 76'rs great. He played with Wilt Chamberlain and said people never knew about the money and time that Wilt gave back to the community. Wilt kept his charitable giving all private. As for Wilt's claim to have slept with 1,000 women, Billy said that was publisher's hype to sell Wilt's book. Billy came in to talk about getting tested for high blood pressure because of the risk of strokes.
Buck Dopp and Yogi Berra circa. 1997. He caught Don Larsen's perfect game in the World Series and was proud to say that Don didn't shake off any of the pitches Yogi called for.
Buck and Patti LaBelle. There are divas and then there is Miss Patti. She had the largest entourage of any guest who I have ever seen come to our studio. She was vivacious and sweet to everyone. She posed for pictures with receptionists, dispatcher, camera men for over an hour until everyone got a picture of her. She wore her celebrity well and I really liked her a lot.
Roger Clemens and son. I took this picture with my first digital camera, the Sony Mavica in the USA Network Skybox. It was on 10.23.2000 in Giant's Stadium. Football fans know this as one of the greatest comebacks of all times between the Jets and the Dolphins. Most of the fans had left the game. We had to stay because USA Network was sending us a limo so we had to wait. We ended up seeing one of the greatest games ever played. Mr. Clemens had recently been accused of throwing a broken bat at catcher Mike Piazza and was in a time of public criticism but he couldn't have been kinder and more of a gentleman in our brief encounter. His only request was that I not take a picture of his son's face. Of course I honored his request. On a Monday night at the Meadowlands, the Dolphins held a commanding 30-7 fourth-quarter lead over the New York Jets. The Jets, however, post 30 of the 37 points scored in the fourth quarter to send the game into overtime, where John Hall ended the four hour, ten minute epic with a 40-yard field goal, 6:47 into the extra period. It was the largest comeback win ever against the Dolphins, while it also marked the longest game in the 31-year history of ABC Monday Night Football. It was the great professional football game I ever saw.
Martha Chamberlain and husband Jonathan Stiles. This was taken in Philadelphia on 10.13.2006. Martha is a principal dancer for the Pennsylvania Ballet and had just performed at the Gala Opening. We were seated during her performance and then she sat next to Stephanie at dinner. So we had a great discussion about ballet and she said a couple of the myths about ballet that are not true: they guys aren't all gay, there are a lot of couples. The dancers aren't dumb and they are not all chain smokers.
Buck and Steph at the Christina Aguillera Concert in Philadelphia 2007
Buck Dopp and Comcast Founder and Director Ralph Roberts For the sixth straight year Comcast volunteers participated in Comcast Cares Day. Over 30,000 employees volunteered at 300 locations a total of 180,000 hours of labor in 34 States. We started at about 8:00 AM in Philadelphia where we planted trees in a vacant lot in a West Philly slum area. Mr. Roberts, who founded Comcast showed up in the rain to encourage the volunteers. He is 86 years old and didn't have to do that but he did anyway. When he spoke, he said he was sure the rain would stop because he had a good connection with God. He meant it as a joke (I think) but the rain did stop. Maybe he DOES have a good connection. He still goes to the office four days week and works.
Stephanie, Buck, Sheila and Lance This was taken our our screen porch by Katrina a few hours after Lance and Sheila arrived from Minnesota to visit us. We had just had a filet migon bbq prepared by Chef Buck.
Brian Roberts, Chairman and CEO of Comcast Corporation and Buck Dopp on January 11, 2006. Mr. Roberts was in our studio to be on a closed circuit show for Merrill Lynch analysts. He gave an overview of the status of Comcast's many businesses under development. He stressed Comcast's focus on the core business with a long term strategy to exploit the superior broadband platform our company has in place.
Buck, Steph and James Brown
Steph and I also met James Brown who in addition to being a sports journalist on the Real Sports show is also the anchor for
Fox NFL Sunday. James Brown played basketball at Harvard. I asked Mr. Brown what Terry Bradshaw is really like. Terry
Bradshaw who is on his Fox NFL Sunday show, won four Superbowls as the QB of the Pittsburgh Steelers. James said he is really funny and a nice guy, "We start at 5:30 AM and work until 5:30 PM and Terry keeps us laughing the whole time." I told Mr. Brown that I'll never forget how Terry Bradshaw on one of the Fox NFL Sunday shows right after 9/11 looked out at the camera and told all the viewers they should open up their Bible and read Psalm 91. I said, until then I had never paid much attention to that Psalm. Then to my surprise, James Brown began reciting Psalm 91 to us, it starts like this:
"He who dwells in the shelter of the Most High will rest in the shadow of the Almighty. I will say of the Lord, 'He is my refuge and my fortress, my God, in whom I trust...'"
Buck and Bryant Gumbel
Buck and Steph on our Wedding Day 12.23.73
Buck and Stephanie Dopp on our wedding day, December 23, 1973. This is where it all started for us and our journey, 33 years later is still exciting, challenging and rewarding and FUN! Stephanie is the love of my life and my best friend. We share everything and spend most of our spare time together just being together. There is nothing better for me than being with her.
Animals Who Have Inspired Me
Barbaro--2006 Kentucky Derby Champion. 2003-2007 Barbaro was only the 6th undefeated race horse in the history of the Kentucky Derby to win it. He won it by 7 lengths which was the largest margin of victory since 1946. In the Preakness Stakes he broke his rear right leg in three places. He bravely battled through many surgeries, casts, treatments and laminitis. It was clear that this horse was a fighter and really wanted to live. Finally he got laminitis in his front legs and literally didn't have a good leg to stand on. His owners decided that his pain could no longer be managed had to finally put him down. I prayed for Barbaro almost every day. He was the first horse I ever prayed for, I think. If there is a horse heaven, Barbaro deserves to be there. His co-owner Gretchen Jackson said, "Grief is the price we pay for loving." Click on the picture to see a website dedicated to Barbaro.
Abby---Our beloved Border Collie who taught Mac everything she knows. She lived with us in Virginia and New Jersey and lasted a year longer than her doctor predicted. She died at home in Mountainside, New Jersey and I called in sick the next day. It was the only time in my cable career I ever called in sick. I still grieve for her and understand those lyrics from the song, Bo Jangles. We still miss her. Abby was cremated by Abbey Glen Pet Memorial Park in Lafayett, New Jersey on 21 December, 2000. Her ashes are in our pond in Delaware.
Abby Dopp
Thank you for viewing my photo gallery.

Behind every picture is a story and I'm happy I could share some of mine with you.

--Buck

Copyright © 2022 Buck Dopp. All Rights Reserved
Website powered by Network Solutions®