For Whom the Bell Tolls--7.2.2011


Fifty years ago today Ernest Hemingway, my favorite American writer shot himself to death in Ketchum, Idaho. He was dying of terminal cancer, couldn't write, hunt, drink or do any of the things he loved so he saw no point in living. His father also committed suicide.


Quite by accident I stumbled on Hemingway when I picked up a first edition of For Whom the Bell Tolls and started reading it while on a Christmas vacation at the Rothwell's farm in Brainerd, Minnesota in the sixties. It's a great love story set in a war zone and shows the conflicts, fears and determination to succeed in all of us.
It still remains one of my favorite three books by Hemingway. The other two are The Sun Also Rises and Death in the Afternoon. I loved Death in the Afternoon for his analysis of bullfighting and all the great bull fighters of the day. He told us why they were great and about their distinctive styles. It reads almost like a Star or National Enquirer full of intimate gossipy details.


Old Man and the Sea
is one of his most acclaimed works but I never cared much for it. Not enough action, slow, plodding and over-rated in my opinion. Critics read all this depth of existentialism and religious symbolism into it. I think it was just a good story about an old fisherman. Hemingway knew it would make people think but didn't intend to make a bunch of philosophical or religious statements.


My own writing style has been influenced greatly by Hemingway. I like clear, concise prose that lets the reader feel the emotion instead of a writer telling the reader what he or she should feel. I know the big words but if I can do the job with the small ones more people will read and understand which is what it is all about. Rest in Peace, Mr. Hemingway. Thanks for inspiring me to become a writer.

I still believe that Elvis is the King of Rock and Roll.
He would have been 76 years old today. (1.8.2011)
I grew up in the fifties in Des Moines, Iowa listening to Elvis' top hits which played on transistor AM radios. To me, he was the original "rock star" and was the main musician everyone around me talked about.
I was in my pre-teen years but I couldn't escape the Elvis-mania that even peaked when The King was drafted and inducted into the U.S. Army. There were projections in the newspapers about what his head would look like shaved. Then there was the actual footage of Elvis getting his hair cut. In those days, everyone who was drafted went into military service and some volunteered. When Elvis was drafted he made no attempt to use his money and influence to get out of it. He also refused to just perform in a USO show; instead he pulled guard duty in Germany like any other soldier assigned there.
Then the Beatles came to the U.S. and took over. Elvis, Fabian, Ricky Nelson and the Beach Boys among others saw their popularity fade. So when those music doors closed, Elvis just followed the open doors into the movie business and starred in 31 motion pictures. In 1968 he made his famous musical comeback. His concert from Hawaii in 1973, Elvis - Aloha from Hawaii, was seen in 40 countries by 1 billion to 1.5 billion people. It made television history as the first special broadcast via satellite. It was seen on television in more American homes than the first walk on the moon. He didn't charge admission for that concert, only what people would be willing to donate to a local charity. The concert tickets raised about $75,000.
His charitable giving was legendary although like his personal life, he kept it very private. He gave away Cadillacs to his friends and paid the bills of many people anonymously.
Here is a shocker! Elvis never won a Grammy for any of his well known top ten hits, although he was nominated for Grammys 14 times!
Elvis did win three Grammys in his career, all for gospel recordings: "How Great Thou Art" (1967), "He Touched Me." (1972) and his live Memphis concert recording of the song How Great Thou Art (1974).
I didn't feel old as some do, when I turned 50. For my 40th birthday, Stephanie threw a surprise party for me and I didn't feel old then, either. The first time I ever remember feeling "old" was when I was 26, the day that Elvis died. I know that sounds strange but it is true.
I thought to myself, "Wow, I've outlived Elvis!"
There is a documentary that airs periodically on television that discusses the influence that Gospel music on Elvis. I recommend watching it. One of Elvis' friends talks about a concert in which a row of girls held up cards calling him The King. He replied to the audience something to the effect that, "There is only one, King." He was referring to Jesus Christ.
But there is only one King of Rock and Roll.
Happy Birthday, Elvis!
Buck Dopp
My favorite Elvis Quotes:
"When I was a child, ladies and gentlemen, I was a dreamer. I read comic books, and I was the hero of the comic book. I saw movies, and I was the hero in the movie. So every dream I ever dreamed has come true a hundred times...I learned very early in life that: 'Without a song, the day would never end; without a song, a man ain?t got a friend; without a song, the road would never bend - without a song.' So I keep singing a song. Goodnight. Thank you."
-From his acceptance speech for the 1970 Ten Outstanding Young Men of the Nation Award. Given at a ceremony
on January 16, 1971. (Elvis quotes from copyrighted material with lines from the song, "Without a Song."
"I ain't no saint, but I've tried never to do anything that would hurt my family or offend God...I figure all any kid needs is hope and the feeling he or she belongs. If I could do or say anything that would give some kid that feeling, I would believe I had contributed something to the world."
-Elvis commenting to a reporter, 1950's.
"Til we meet you again, may God bless you. Adios."
Said in 1977 at the end of a concert during his last tour.
The Best Way to Resign Your Position

The best way to resign from your current job is to speak with your boss in person and explain why and when you want to leave.

Start by sharing your thankfulness for the opportunities he or she has given you and express your appreciation for all you've learned in the process.

Don't say anything negative about the job, the company or your co-workers.

Be truthful and honest in relating that you feel it is time for a new challenge and are looking to move your career in a different direction. Consider using these phrases but customize to your situation:

·
I'm ready for a new challenge.

·
My goals are changing and I want to move in a different direction.

·
I want to look into some new opportunities, and see what's out there.

·
I want to make some changes that will stimulate my growth.

·
I've discovered a job opportunity that is just too good to pass up.

Offer to train your replacement and discuss the time frame of how long your boss needs you to stay. This will vary depending on the type of job you have, your boss and when your new company needs you. Just make sure you and your boss are in agreement on the transition and its time frame.

After the discussion you should definitely write a letter of resignation for the record but keep it short and sweet, just a sentence or two— confirming the basics of what you and your boss discussed.

Your boss may want to talk about the best way to announce it to the rest of the team. That's up to your boss, not you. Support the boss' decision but give your feedback if asked.

Until the last moment you walk out the door, work hard and smart at your job doing your best possible work.

Remember always:

your goal is to exit as a class act and to not burn any bridges which you may need in the future.

--Buck Dopp

"Over the past decade, arguably no single American has inflicted more fear, more loss of freedom and more loss of life on our country's most vicious and violent enemies than Stan McChrystal,"

--U.S. Defense Secretary Robert Gates
July 23, 2010 at General McChrystal's retirement ceremony.

Well done, General McChrystal. Thank you for your service to your country. We owe you a deep debt of gratitude.

Buck

Defense Secretary Gates awards General McChrystal the Distinguised Service Medal while wife Annie looks on Photo by J.Scott Applewhite/AP.
Amendment I to the Constitution of the United States of America:
| | |
| --- | --- |
| "Congress shall make no law respecting an establishment of religion, or prohibiting the free exercise thereof; or abridging the freedom of speech, or of the press; or the right of the people peaceably to assemble, and to petition the Government for a redress of grievances." | |
How to Take Better Pictures

Choose subjects
you care about.
You can't go wrong with pictures of your family and people you like or respect.
Interesting people, children, pets
, anything with beauty or that strikes you as unusual. Clothing, uniforms and colorful costumes also make for interesting pictures.

Hold the camera steady
. Consider holding your breath when taking a picture. Frame your subject carefully then push the button slowly and don't move the rest of your body. Not holding the camera steady causes fuzzy pictures.


Get close to your subjects
.

One of the biggest mistakes made by amateur photographers is that they stand too far back. When shooting people get right up close, in the face of your subjects; it will always make for a more interesting picture. Getting close is even more important if you're using a smaller digital camera.


Keep talking to your subjects
while you're snapping pictures. This will keep them from being self-conscious and closing off and will help you build their trust. If they like and trust you, that will come through in the pictures you take. They will be more open, friendly and relaxed. It will also make the experience more pleasant for them and you. Give them genuine and sincere compliments as you see them in the viewfinder and review the pictures you've taken. That will build their confidence and they will feel even freer to relax and pose for you.


Always honor the trust
your subjects place in you when taking their picture.

If the subject doesn't like a picture, delete it and never use it. Say something to them like this, " I can do better than that and you deserve to look your best." Never use pictures taken to make fun of or to embarrass anyone. Our job as a photographer is to make the subject look good. If they don't look good, we have failed them. Some people don't like their picture taken only because photographers have made them look bad in the past or friends have made fun of them. Every person has a beauty to him or her. A good photographer knows how to capture that beauty and put it on display.

When you can enhance a picture by using editing software do it.
Editing is very time consuming and in the end it is better to concentrate on just taking good shots and enough of them so that you can delete the bad ones.
Never make excuses for your pictures
. If the picture is bad just don't share it.


Professional photographers may take twenty pictures for every one they keep.
Taking more pictures gives you more options. You have more of a selection from which to choose. Delete or dispose of your bad pictures with cruel disregard. Never let them see the light of day! Never keep a bad image or photograph simply because you are sentimentally attached to it. We photographers can get emotionally attached to a poor photo at times. You know what I'm talking about. We must be ruthlessly objective. Get rid of bad pictures. Only share your best pictures with others.


Always have fun taking pictures
. You are freezing a piece of history for enjoyment later. When it stops being fun, you need to take a break from photography.

Take your camera with you wherever you go.
You never know when a photo opportunity will occur.

You're never alone when your camera is with you.


--Buck Dopp

"Striking Silver, the Untold Story of America's forgotten Hockey Team"
by Buck Dopp 2.28.2010
This weekend, to get myself in the right frame of mind for the USA Olympic gold medal showdown with Canada, I re-read Striking Silver by Tom and Jerry Caraccioli which is the story of the 1972 USA Olympic Hockey Team that won the silver medal at the winter Olympics in Sapporo, Japan.
The lack of media coverage, and a low interest in Olympic hockey at the time, contributed to keeping the accomplishments of the 1972 silver medalists buried in secrecy. The Caracciolis have unearthed the details of this buried treasure which will enrich anyone who reads Striking Silver.
There isn't a better Olympic hockey book, than Striking Silver and it finally puts the well deserved spotlight on this great team that America seemed to forget. The silver medalists from 1972 have largely been ignored in favor of the gold medal teams of 1960 and 1980. Yet, the seeds of the "Miracle on Ice" of 1980 were sown in Sapporo. Herb Brooks, the coach of the "Miracle Team," wrote to Murray Williamson, coach of the 1972 USA team, that his influence as a teammate and coach helped Brooks to "produce this victory."
The story is told in unique fashion from the first person point of view of the individual players. Each tells the story in his own words. Patterns emerge with each telling of the 1972 Olympics, which stitch themselves into a broad tapestry of the events of that year. The authors add the historical context of the times which draws an even sharper picture of the significance of their accomplishments. The Viet Nam War was still raging and there was political and social upheaval in America. I was a college senior at the time and remember vividly how unstable our society and culture seemed at the time.
All good memoirs must be honest and Striking Silver passes that test. It accurately recounts the bitter feud between Coach Williamson and goaltender, Mike "Lefty" Curran who agreed to join the team only about three weeks before the team would play its first game. In defeating Czechoslovakia 5-1, which was the win that gave them the silver medal, Curran made 51 saves in one of the greatest goaltending performances in U.S. Olympic hockey history. Curran liked the public comment made by Coach Williamson about their personal conflicts, "Lefty and I can only get along for about three weeks."
Striking Silver demonstrates how the training techniques, using European strategy and studying the Russians all began with the 1972 team and carried over into the 1980 gold medal team. There was also a legacy of players, coaches, trainers and equipment men from the 1972 team which influenced the direction and the development of the 1980 team.
Striking Silver is a must read for all hockey enthusiasts but you don't need to be a hockey fan to enjoy this lively read of real life, human drama. In the end, it is a story, not just about Olympic hockey, but about men who worked together as a team, putting their own pursuits and self-interests aside to represent America in the Olympics. GO USA!
Updated July 9, 2009

"You cannot legislate the poor into prosperity by legislating the wealthy out of prosperity. What one person receives without working for, another person must work for without receiving. The government cannot give to anybody anything that the government does not first take from somebody else. When half of the people get the idea that they do not have to work because the other half is going to take care of them, and when the other half gets the idea that it does no good to work because somebody else is going to get what they work for, that my dear friend, is the beginning of the end of any nation. You cannot multiply wealth by dividing it."

Adrian Rogers, 1931

This quote is a truth that I believe our elected officials need to remember.It is not right to take what hard working people have earned and give it away to others who have not worked to help improve their lot in life. Yes, we should help the less fortunate. I'm all for that. But the massive scale of government handouts to every corporation "too big to fail", every special interest group and those who otherwise feel entitled is shocking to watch. Government doesn't have wealth or job creation capability. Businesses and workers create jobs and wealth, not the government. The government takes wealth from those who have earned it and passes it out to others.

"I pledge that under my plan, no one making less than $250,000 a year will see any type of tax increase," Obama told a crowd in Dover, N.H., last year. "Not income tax, not capital gains taxes, not any kind of tax."

Eloquent speeches that make us all feel good by the high sounding choice of words only make us embittered when we see the louder talk of the actions that follow. Do you remember when candidate Obama declared over and over that taxes would only be raised on the "rich"? It sounded good at the time but the thing is, his definition of "rich" kept changing.Here's a prediction, those words by President Obama will be shown to be a lie. All working Americans will see their taxes go up. Besides the Federal and State tax increases, workers will see all costs for goods and services go up which are "hidden taxes." Businesses will have to pass through to the consumers and employees the costs for Federal mandates and taxes imposed upon them by the government. Geoff Colvin, writing in Fortune's July 6, 2009 issue comments, "Research has shown that when business taxes are raised by a dollar, 70-92 cents of it comes out of employees' pay." A good place to watch for this is your utility bills in the next couple of years. Businesses have no choice but to pass through to their customers and employees these mandates and taxes. Some companies will eliminate jobs to absorb the costs.

Nationalized health care as currently proposed will lead to a one insurer (payer) system, the Federal government. The Fed has unlimited tax payer resources to drive all other competitors out of business. Our costs for health care will go up and the services will be rationed. The government code word for "rationing" is "efficiencies." That means, among other things, that the government will decide, not your doctor, which tests you really need.

The government has to get the money for their spending from somewhere...and they are getting it from us. We should all be concerned and should read about the bills being passed which is something our legislators don't have time to do.

Buck Dopp




June 1


If I had the inclination, this would be a good time to start a small business. The economy is floundering and we may not have hit bottom yet but I still think the timing is perfect for the right person with the right idea.




Even in bad times, businesses can do well despite the general economic conditions. As I've traveled across the country this year, I've found myself saying more than once, "There's no recession here!" The customers flock to certain stores and restaurants in droves and are willing to stand in line because the products and value for the dollar are there. I'm sure you've noticed the same thing and you don't need to travel far to run across businesses that are doing quite well in your area.




A business which is providing a quality product and/or a top notch service will have customers who are willing to pay for those things. Businesses will be looking for the best employees they can get and will be holding on to those employees they feel will bring value to the business. The best businesses will continue to succeed because they have never taken their customers and employees for granted. Those businesses which do not put their customers and employees as top priorities are doomed to fail.




Profit is only a by-product of providing a great product and great service delivered by great employees.

These are the reasons I know that this would be a good time to start a business...if I were so inclined.




BD



April 19, 2009, 



Here are some ways we praise others.



"He's really a go getter and talented", "She's accomplished, writes well and is attractive", "he's athletic, smart and a good speaker!" These and phrases like them are commonly used to describe qualities in others that are admired. The list goes on and on since there are so many positive adjectives we can use to describe those with whom we have a high regard. 

There is a quality in others that I always respect that seldom is mentioned when describing someone else in glowing terms.
 
"He's really a good listener!"

Listening is an art. In fact, it is a lost art and seems to have gone the way of the handwritten letter sent by U.S. mail.

God gave us two ears and only one mouth for a reason. Most of us get the proportion all wrong. I guess we all feel we have to let everyone know how we feel about everything. After all, it is our First Amendment right to enjoy and practice free speech.

But I think we need to always be willing to listen to others, too. Even or especially if they disagree with us. If they are right, we will learn something and be all the better for it. If they are wrong, it won't hurt us to have allowed them time to share with us. My enemies have even taught me valuable lessons when I calmed myself down enough to listen to their point of view. I'm grateful for getting set straight on something whether the speaker wished me ill or well.

Which brings me to the greatest listener I have ever known in my life, my Grandma. She would ask questions and then listen to the answers, she wouldn't be thinking of what she would say next. When you were finished speaking, if you didn't ask her a question back, she wouldn't say anything at all...she'd just wait for you to keep speaking.

When she reached an advanced age she would never bore you with the same old stories as some elderly folks do. Grandma continued to be a good listener. I think she was such a good listener because she loved people and she genuinely cared about them. She wanted to know all about them and she knew that listening to them speak was the best way to learn about her friends and family.

When Grandma got very old, she lost most of her hearing. She couldn't hear that well but she continued to be a good listener.

There is a difference between hearing and listening and Grandma knew the difference.

It is with these thoughts in mind that I've decided to spend the rest of the month doing more listening than speaking and more reading than writing. I want to be receptive to the messengers that God is sending my way.

I'll also be looking for some good listeners out there...like my Grandma Doop.

BD




January 6, 2009

I wrote the following on my last day of work at Comcast.

I'm grateful for all the opportunities I've had during my 27 year cable career. I've had the privilege to work with some great people who I will miss. But I am happy to be able to spend more time with Stephanie and my family.

To my former co-workers and those still in the work force I share these reflections:

Despite what you may think if you watch the news reports, businesses are still making money. People are still getting hired. Careers are still waiting for those with the ambition and drive to go for them.

Every industry, business or vocation needs good people and always will.

So don't be discouraged by short term setbacks. The future is bright. Your best days are ahead of you. Just always do your best and good things will come your way.

Buck Dopp


The following was inspired by analyzing why "It's a Wonderful Life" holds such meaning to me.

Never judge something by the immediate results or how they are perceived by others. Let time give you the correct perspective on whether words or deeds were a success or not.

Lincoln thought the Gettysburg address was a failure and critics panned it. But that short talk he prepared on the train was one of the best speeches ever made.

Jesus Christ was humiliated and killed and seemed like a big failure. Yet, whether you are a Christian or not, you have to say that his life has changed the lives of billions of people. But it didn't look that good for him on the day he was murdered.

"It's a Wonderful Life" was released on Christmas Day in 1946 and was flop, it actually lost $525,000. It was lambasted by critics and didn't win any major awards. Jimmy Steward had just come back from the war and wasn't sure he still had the acting skills even to the point of being uncomfortable doing an on screen kiss. But in 2008 it is one of the greatest Christmas movies of all times and one we see every year. It is a true holiday classic.

Things aren't always what they seem to be at first. Watch and wait to see the REAL results.

Buck Dopp
12/17/2008
November 8, 2008

Dear President-elect Obama:

Congratulations on being elected 44th president of the United States. Your campaign was brilliantly executed and you got better and better at delivering your message as time went on. It was always interesting to listen to your speeches because you are intelligent and articulated your points in easy to understand terms.

Let's get this out of the way before I say any more. I did NOT vote for you. I voted for Senator John McCain. I felt his lifelong service to our country had earned my vote. His track record of accomplishment is clear and impressive. He has fought for our country and we are at war. After his military service he continued to serve his country without ceasing. John McCain has been criticized as much by his own party as by the Democrats and I like that about him, too. He was for the surge before it became the popular thing to support. (Yes, the surge did work, sir.) He was right all along about that. I know we will continue to be benefited by Senator McCain's fighting heart and his service to our country.
I like Governor Palin better than anyone who has criticized her. The mean spirited attacks against her, say more about her accusers than about the Governor herself. We have not heard the last from Sarah Palin and she will probably get the last laugh.

As an American, I'm proud that we have elected a strong and smart African American family man who has accomplished so much in his life so far from humble beginnings. You're an American success story and clearly have not gone through life expecting a hand out. Another thing I respected about you and your campaign was that you weren't running as an African-American but as an American...and that's the way we look at you. I honestly forgot about your race or color until someone else would bring it up.

Since our country elected you Mr. Obama, I will support you whole heartedly as my president. I will pray for you and your family that God in His infinite mercy grants you wisdom, courage and grace to fulfill the monumental task ahead of you. Stay safe, sir and don't take any chances with your personal well being, especially if your gut tells you something. Follow your heart and trust God.

I want you to succeed and I want you to be a great president. Now is the time for your actions to back up the eloquence of your words. You talk a good talk. Now, I want to see you walk the talk. When you do that, I will be among the first to praise you and give you the credit you are due. I have a feeling that you are going to pleasantly surprise me and all those who didn't vote for you. That would be great and I hope that happens!

I just have a few concerns that I need to share with you. Please keep our country safe from attack by our enemies. Despite the heavy criticism he has received, President Bush has kept our country safe from a second attack within our borders. He took the fight to the terrorists and you've got to give him that due. Without safety from death and destruction at home, the rest of your agenda would be worthless. So keep us safe and secure. National defense is job one for the president.

I've worked hard all my life, paid all my bills and raised four adult children who are working and paying their bills. I have believed in the American dream that if a person works hard, they can succeed and have more in life. It has worked out for me. As I have sown, I have reaped. Now, I'm more than a little uncomfortable at the prospect that you might be poised to distribute the abundance I have earned to others. That concern makes me feel like I'm being punished for my success instead of rewarded for it. As a young man I faced a cross roads, I could have accepted food stamps and welfare or go to work for less money. I chose to go to work instead. That decision changed my life for the better.


I generously give of my financial abundance to over a dozen charities and many individuals. This is a private matter but I share this with you so you do not think me selfish or unpatriotic to say that I don't think it is the government's job to be a charitable organization with my hard earned money. I want to keep the money that I have earned and give it to the causes I want to support and to the people I care about. I don't want Uncle Sam (or Big Brother) to tax my abundance excessively to give handouts to business, special interest groups or individuals. I suggest that the Federal Government cut wasteful programs and ineffective foreign aid and use those dollars for funding Americans with true needs.

America cannot keep spending money like there is no tomorrow. Tomorrow will come and so will the bill. Our children's future may already be mortgaged but with everything in your power, please pay down the debt and live within a budget like the rest of us have to do. If I knew my taxes were going to reducing the debt I would feel much better about paying them.


I sincerely hope you understand that if you raise taxes on businesses that businesses will not pay the taxes. They never do. Businesses simply raise their prices and pass your taxes along to the consumer who pays them. That's the best case scenario. In the worst case scenario, the businesses can opt to lay off employees to compensate for the higher taxes. That means layoffs or higher prices are how your tax plans will really raise revenue for the government. In my humble opinion, that's not a good trade off. For short term gain you are damaging the future growth of our economy.


Speaking of taxes, I hope you will honor your promise not to raise taxes at my income level. I'll be watching that promise play out as much as anything else you've said during the campaign. A man is only as good as his word. Be a man of your word in this and all things.
Please reply, if only briefly, so that I know you listened to my concerns. Thank you for your consideration.


Again, congratulations, Mr. President! Godspeed. You'll need it.

Respectfully yours,


Buck Dopp
Bear, Delaware
19701
This was the response I received from my letter which arrived in March 2009:
"Dear Friend:
Thank you for taking the time to share your views.
Americans across the country are eager for information about the state of the economy, national security, and a host of other issues. President Obama is committed to making his Administration the most open and transparent in history, and the Internet will play a major role in delivering on that promise.
We hope yon will join us at WhiteHouse.gov to learn more about President Obama's views on a range of topics, as well as his effort to provide a window for all Americans into their government. Your voice is shaping our country's future, and we encourage you to join us online, share your thoughts, and build a community of connected citizens that will help address the pressing issues of our time."
F. Michael Kelleher
Director of Presidential Correspondence
This was inspired by the worst financial crisis in the United States in my lifetime:

My hope is that our country will come together as one and work together as one to fix the root causes and get our country back on track.

This is not the time to point fingers. There's plenty of blame to go around. Obviously, those who we trust to be responsible for these things on every level let us down.

But any person who took out a home loan they couldn't afford and then defaulted on it...for whatever reason...shares the blame. People who live beyond their income and don't pay their bills make it bad for the rest of us who do.

Let's put partisan politics behind us. Let's put differing political philosophies behind us and work together to fix the problem.

Let's not use this as an excuse for failure as individuals or businesses.

America is still the greatest country in the world and our best years are ahead of us.

Buck Dopp
A proud American citizen
9/21/2008

If you find yourself in the middle of a merger, buyout or reorganization:

1. Proceed with your business or work as usual. Yes, it is a cliche and yes there is no such thing as business as usual but do it anyway. You'll be surprised at how much you can get done.

2. Focus your attention on the things you can control and don't waste time fretting about things you can't. Take care of the present and the future will take care of itself.

3. Have a positive expectancy about the future outcome of the changes you are going through. This could be the best thing that ever happened to you!

4. Always be productive, a doer and a worker. Contribute to your company on as many levels as you can without stepping on anyone's toes in the process. Every company would hate to lose a person who gets things done.

5. Avoid the temptation to gossip and speculate with co-workers. This is counter productive and leads to negative results.

6. Transitions in companies don't usually last long. Hang in there, be positive and work hard. Good things will come your way.
Salt Lake City, Utah our July trip to the Miss Utah Pageant--2008
The Mountains near Salt Lake City
Glenn Harman Buck and Steph and Gary Summers on the Ski Lift where the Olympics were held
Steph in front of the Morman Tabernacle Choir
Steph on top of the Salt Lake City Public Library
We went to the Flea Market at Pioneer Park on Saturday and enjoyed the musicians and food the most. Here is a woman with her daughters who all played string instruments.
Zack Parrish is a Salt Lake City Bluesman originally from the Salt Lake City area and recently from Austin Texas. He sounded great and I now wish I would have thanked him personally. I did drop some cash in his guitar case and he smiled and nodded. I took a movie of him playing which somehow I must have deleted. If you click on his picture you will be taken to his web site. If you would like to get a taste of his music, please click on the link below appropriately called "Buck Rag."

http://serapisrecords.com/ra/BuckRag.ram




Stephanie Dopp on May 3, 2008 at the Settlement Music School Gala in Philadelphia
"Dear Stephanie,

You have been the best mother to my children a man could ask for. Thanks for being you and for being everything I ever wanted in a woman, wife and mother.

Love always,

Buck"

(The message on three dozen, long stemmed red roses sent to her for Mother's Day 2008.)

Catherine Lodders, Chubby Checker and Stephanie Dopp
I took this picture of Stephanie with Chubby Checker and his wife, Catharina Lodders at the Settlement Music School Gala where Chubby was inducted into the Settlement Music School's Hall of Fame.

He was formerly a student of this school which is celebrating its 100th year. Many great Philadelphia musicans have launched their careers from Settllement Music School which allows students the opportunity for musical training whether or not they have the money to pay for it.

Chubby is most known for his breakthrough hit in 1960, "Let's Do the Twist."

I never thought I would see the day that I would be sitting in a tux, watching the guy who sang Let's Do the Twist. in a tux, receive a hall of fame award and being referred to as "Mr. Checker." He looks great too.

Chubby's wife is a former Miss World 1962 from the Netherlands. She still radiates beauty and was at his side all night. They have three daughters, one of whom is a basketball player for Duke.

Italy! March 28- April 7, 2008 Steph and I travel to Umbria and Rome
Stephanie and I went to Italy on March 28 with a delegation from my alma mater, St. John's University, led by the University President Brother Dietrich Reinhart. We visited towns in the Umbria area of Italy including, Montefalco, Foligno, Bevagna, Perugia, Spoleto, Gubbio, Todi, Deruta, Orvieto and back to Rome. Some of our delegation presented the latest handwritten book of the St. John's Bible to the Pope. We had a great time and I took about 800 images. I'll be sharing some of the pictures and details of our trip.

We loved the people, the food and the wine. Our traveling companions were the best as were our guides, especially Elisabetta Federici. The pace is slower and people take time to enjoy their food and each other. Many of the stores were closed in the afternoon. I wondered if that was because they wanted to take a nap.

The way the motorcycles weaved in and out of traffic in Rome was frightening. Our guide said there were many motorcycle accidents in Rome.
Playing to Win--Comcast Leadership Forum 2008
In the interest of full disclosure, the following are my own impressions, comments and opinions. They do not represent the official position of Comcast in any way regarding any of these subjects, people or events. I'm exercising my own free speech in the following statements and images to share with my family and friends.

I have had the priviledge to work for the greatest company in the world, Comcast. I only wish I had been with Comcast for my entire 27 year cable career but it wasn't until 1987-1988 when Comcast in partnership with TCI acquired my company Storer Cable, that I became a part of the team. Comcast was founded by Ralph Roberts in the sixties with the purchase of a little cable system in Tupelo, Mississippi, the birthplace of Elvis Presley.

I was immediately impressed with Comcast's ethics, conservative style, business acumen and concern for employees and customers. These things I was to learn emanated from the professional style of Mr. Roberts and his son Brian who has taken over the leadership of this fine company. It is worth noting that very few "founders" were able to successfully pass their businesses on to the next generaton. Mr. Roberts was able to do that with a balance of letting go but still being around for support and guidance.

I am asked all the time how one can get a job at Comcast. Here's how to apply for jobs, simply go to the "Careers" section at www.comcast.com.

Tell them Buck Dopp sent you. :)



"Call Me Ted" by Bill Burke
Ted Turner

was interviewed by Bill Burke at the Comcast Leadership Forum on March 3, 2008 at the Biltmore in Phoenix, Arizona. Mr. Burke worked for Ted Turner and wrote a memoir about the things he learned from him. Ted was so impressed with the article, he asked if Mr. Burke would write his biography. I understand the book is almost finished and will be titled, "Call Me Ted." If you would like to pre-order the book, please click on the link below:

http://www.amazon.ca/Call-Me-Ted-Turner/dp/0446581895/ref=sr_1_17?ie=UTF8&s=books&qid=1206300560&sr=1-17

Here are some of the notes I took during the interview and are my best recollections of the exchange between Ted Turner and Bill Burke.

I found the interview so facinating that I didn't take a single picture of either one of them. Those of you who know me, appreciate how good the interview must have been for me not to think of taking their picture.

●
Ted said if you're going to play or compete in anything you're going to lose sometimes. When he bought the Atlanta Braves they lost many games in a row and reporter asked him about all the losses. He replied, "We're not just losing…we're learning how to win."



"Never quit on something you believe in. A lot of times people just give up too soon…never quit."




●
Asked if he missed cable he said NO. He said after all the big consolidations which were required to get leverage in negotiations with programmers…it just wasn't fun anymore.


●
One of Ted Turner's favorite slogans:


"Early to Bed, Early to Rise, Work like Hell…and Advertise!"


●
His biggest concerns right now are Nuclear War, Population Growth, Global Warming and having FUN!


When asked why he is still working with all his money he replied, " I like to ski and I like to fish….BUT I DON'T LIKE TO DO THEM ALL THE TIME!"


Then he said, "You don't want to be old and broke! I used to have 10 billion dollars…now I'm down to 2 billion…it's hard!"


What is your current financial strategy? Answer: Avoid divorces by not getting married.


Personal
Biggest Accomplishment—That his 5 children are happy and successful.


Biggest Disappointment—Failed marriages. If he had it to do over again he would rather be happily married to the same woman like many of his friends.


Business

Biggest Accomplishment—Creating CNN (He knew it would succeed because 24 hours news radio was doing well.)


Biggest Disappointment—Selling Turner and giving up control during the AOL/Time Warner Merger. He lost his business and a lot of his money.


The Most Interesting People He's Met? (He answered in this order without much explanation why)

1. Gorbachev
2. John Malone
3. Jane Fonda

On Dealing with Tragedy (His Dad and sister died young)—"You either break down or you break out. I just worked like hell to forget about it."

Bill Burke did a great job interviewing Ted who obviously trusts him. This book will be a facinating read. I can't wait to read it.

Buck

John Fogerty
"I'm not much one for speeches....I just love to play rock and roll...hit it!"

--John Fogerty
Founder and Lead Singer of Credence Clearwater Revival

"...and then my boyfriend cheated on me...he shouldn't have done that...because I write songs!"-Taylor Swift  
 

www.taylorswift.com




Taylor Swift's advice to aspiring song writers:

"Write your songs not for a demographic or for getting on the radio. Write your songs for the person you?re writing that song about. When I sit down, I say to myself, ?Okay, who is this about? What would I say to him right now if he were here?' "



Jim Robbins of Cox Cable
My Favorite Pictures of Lake Havasu City, Arizona
The Dixie Bell and Palms Decorated for Christmas
Big Horn Sheep at Sara Park
Cup Cake Mountain
Lake Havasu Channel
The View from our Bedroom Balcony Deck
View from Barley Brothers
The London Bridge
View from London Bridge
Palms near Lake Havasu
June 16, 2011

Happy Birthday and Happy Father's Day to my Dad, Ron Dopp.


Dear Dad,


Today you turn 85! Happy Birthday and Congratulations! It probably seems like only yesterday that you were doing experiments in your basement in Des Moines, Iowa, building boats, making models, writing love letters to high school girls and taking them to the movies.

Your interests and talents are so multi-layered, it is impossible to describe you in only a few words. You're a writer, a photographer, a gardener, a chef, a brew master, a chess master, a teacher, a dancer, a dance teacher, a pool shark (and I mean shark!), a beer connoisseur, a stock analyst, a financial planner (long before there was such a thing), a foot doctor, an expert on all creams and lotions, an expert on all soups and salads, a guitarist, a pianist, an entertainer, a graphologist, a painter, a chemist, an inventor,

a sketch artist, a bicyclist, a retired savings and loan executive, a man with :con-fi-dance: a WW II veteran where you were an ambulance driver and in pilot training; a ping pong champion in singles and doubles, the inventor of "shuffle puck", a boy scout and scout master, a golfer, a bridge and poker player, a Spanish linguist, a clogger, a line dancer, a "part Cherokee Indian," (that's your story and you're sticking to it} and

a man well off enough to retire at 57 but who could never "afford" to buy anything when we were growing up.


One of the great ironies of your life is that while you are quick to give advice to others on what they should eat, drink and do in every conceivable situation, you are loathe to ever accept any advice from others.
You march to the tune of your own drummer and like Frank Sinatra, will always do things your way. No one ever accused you of following the crowd and I think you instilled that in your children to a large extent. Growing up, it was never an important priority for me, and still isn't to this day, to go along with groups and group mentality. You taught us to think independently from the accepted wisdom and to be leaders, not followers.


Your legacy will always have to include your passion for life. You love life. You love to eat, to drink, to study, to play, to talk, to learn new things, and to just do. You're a constant student and have acquired knowledge about more subjects than I can even mention here.


I have a Dad who went to work every day and came home to his wife and family every night. He always paid his bills, by check or cash on the spot. If he said he was going to do something, he did it. He worked hard and rarely found the time to sit around and watch TV. He was either learning, teaching, practicing or making something. He was honest and moral in all his dealings and showed patience and cheerfulness even in stressful situations.


You're one of a kind, Dad. Though we're two different people, I love you and respect you and appreciate the great example you've set for me in so many areas of life.


Happy Birthday!


Love, Buck

My Dad, Ron Dopp on our deck
Gary Cooper in High Noon Poster
This Saturday, November 10, I watched "High Noon", a classic four star film starring Gary Cooper who won an Academy Award for his performance. The film is in black and white and after a few seconds of watching it, you forget that. There isn't a wasted shot or word of dialogue--only what is needed to tell the story. It is about 105 minutes long which is almost the time span of the action depicted in the movie which is 85 minutes. It is loaded to the gills with symbolism. You see fear and courage, betrayal and loyalty, good and evil. The story keeps you on the edge of your seat until the last seconds of the movie. The use of camera angles...up close so you can see the beads of sweat from strong emotions and far back so you can see the loneliness and isolation people feel sometimes. Some of the greatest moments of the film are just silence while the picture tells the story.

The movie was made in 1952 for $750,000 and was nominated for seven Academy Awards and filmed in only 31 days. The producer was Stanley Kramer and the director was Fred Zinnemann from a screenplay by Carl Foreman. It was Foreman's last screen play before he was blacklisted to London during the McCarthy era. It was Grace Kelly's first major role and she was only 23, Cooper was 51. The theme song, "High Noon" (Don't Forsake Me Oh My Darling) won an Academy Award for the best song and Tex Ritter sings it throughout the movie. Katy Jurado gives a riveting performance as a Mexican saloon owner.

Flim critic, Tim Dirks says, " High Noon is possibly the all-time best Western film every made...."

None of us know the future and none of us know all the details and variables that can affect the outcome of any event. So we must use the information we have available to us to follow our heart and hope for the best. This movie is about all of this...and much more.

You must see this movie as soon as you can. It is a masterpiece.

Buck
11/12/2007

Flash and Buck relax at home by the fire Nov. 9.2007
"But it's all right now, in fact, it's a gas!
But it's all right, I'm Jumpin' Jack Flash,
It's a Gas! Gas! Gas! "
-- Mick Jagger

We named our three month old Golden Retriever Jumpin' Jack Flash.

We didn't need another dog. Mac is doing fine and continues to enrich our lives. But sometimes things just happen that you don't plan.

Stephanie went to a pet store in Bear, Delaware to buy a collar for Mac. She saw a male Golden Retriever sitting alone in a cage and she felt so sorry for him that she asked to go into the petting room with him. There were two males in a cage below him and they looked much happier so she felt the lonely male needed the most attention.

She played with him for awhile and told the clerks that if her husband were there, he would buy it.

The next day I agreed to go to the pet store just to see the dog while we were running errands. We did take him into the petting room and he went crazy: he ran into a wall nose first at full speed, he picked up every dog toy in his mouth and dropped them as if to say, "Look at me...I can do this! I can do that! I can pick this one up! And this one! Watch me now!"

About that time, he started jumping. Not once, not twice but over and over, jumping straight up into the air. During one jump he fell backwards and awkwardly placed his leg down and it broke. The little guy screamed and screamed and we knew he was hurt really bad. The Pet Care people took him to the hospital. He had a broken leg and they put him in a cast.

We checked in on him twice the next day and he was still happy to see us. We checked in on him the following day too. He tried to jump even then to get our attention.

The manager said he would give us the dog, as is, if we would take responsibility for all the medical treatment. We agreed and took him home on the third day.

That's why we named him Jumpin Jack Flash.

He wasn't supposed to walk for five weeks when his cast comes off. That's pretty tough for a little puppy. So Stephanie bought a baby stroller and we walk him in a baby stroller when we take Mac for walks.

Our decision to take Flash into our home was not a wise one from a financial standpoint. We could have bought one of the healthy males instead of the one with the broken leg. By the time his medical treatment is completed, it would have been cheaper to buy both of the other males than to buy Flash. But there are times in your life when you do things out of love and money is not an issue. This was one of those times.

How can you NOT take a little dog home who broke his leg trying to impress you?

Buck
10/6/2007
Flash
Flash with his cast on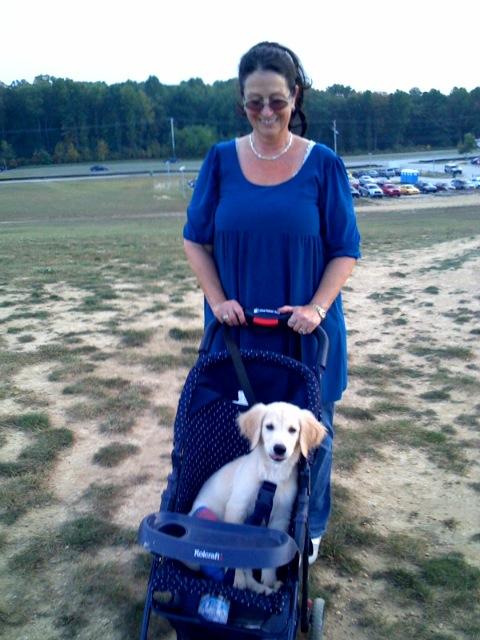 Stephanie and Jumpin Jack Flash
The above x rays are of the right rear leg of our puppy Golden Retriever Jumpin Jack Flash Dopp. The first two pictures on the left were probably taken the day he broke it on September 21,2007. He broke it by jumping straight up in the air and falling down awkwardly on his rear right leg. The last picture on the right was taken on October 26, 2007 which showed that the bone is healing in the correct place. After that picture was taken, the vet said we could remove Flash's splint/leg wrap which was serving as a cast.

Arizona Milotich and Grandma Dopp on AZ's 14th birthday. They are waiting at the Philadelphia Airport for a flight to Las Vegas.
Mac taking a nap
Every once in a while, someone asks how I got the name Buck.
When I was a little boy living in Des Moines, Iowa in the fifties I wanted to be a cowboy when I grew up. All my heroes were cowboys. They were the good guys. They were the stars of the movies and television shows I watched on Saturday morning growing up and they became my role models. They were brave and virtuous and did the right thing.
For birthdays and Christmas, I asked for cowboy clothes, cowboy hats and cowboy guns. I would walk around the house playing cowboy with all my cowboy accessories. Soon, my father started calling me "The Little Buckaroo." This was later shortened to "Buck" and that is what the family called me. When you look at the picture below circa.1956, I think you will get the idea of how I became known as "The Little Buckaroo."
The Little Buckaroo
My legal name is Charles Gregory Dopp. My mother always liked the name Gregory and my parents were considering calling me Gregory.
I was born in Mercy Hospital on November 13, 1950 in Des Moines, Iowa.
In those days, the hospital wouldn't allow the mother and baby to be discharged until the bill was paid. Since there was an outstanding medical bill of $50 for my birth, the hospital wouldn't discharge us since my Dad had no money to pay for it.
Out of the blue, an anonymous donor stepped forward and paid the bill on the condition that his identity would never be revealed. The man paid the bill and the hospital kept their word and never divulged the name of the benefactor. My mother and I were allowed to go home.
My Father and Mother had an older couple befriend them and spend time with them during the last months of her pregnancy. This couple was originally friends with my Grandfather and Grandmother. They would have had the money to pay it and also the love for my Mom and Dad to do it. His name was Charles Bridgeman and he owned a pharmacy.
So my parents named me Charles for Charles Bridgeman and added Gregory as the middle name. They never found out for sure because as time went on everyone drifted apart. I've always been proud of my legal name too for this reason and gave it to my youngest son as a middle name.
--Charles aka Buck Dopp
12/1/2006
(For family and friends.)
If There is One Thing I've Learned...
...it is that everyone needs to find out what works best for them.
At one time, I planned on writing a "How to" book on how to achieve success. Now, I am not so sure I ever will. The danger of doing that, is that readers will think that they can duplicate my success by duplicating my life. My circumstances are unique and while anyone can learn from basic principles I applied, it is just as important that they exploit their own strengths and advantages. In our culture, we tend to want to be like other people instead of being the best we can be. It is good to have role models to get you headed in the right direction. I have had many and they have changed as I needed different examples to follow.
But, times change and with those changes, opportunities are created and others close. In my Dad's generation, in the fifties, he jumped into the Savings and Loan industry which was new and growing and there were great rewards for him. By the time he retired in the eighties and I came of age looking for a career, the Savings and Loan industry was dead. I wanted to emulate his success and had several discussions about that as a career choice.
Dad steered me far away from that industry and I ended up in the cable television industry in 1981. Many thought it was a fly by night industry that would soon be overtaken by satellite TV. Besides, the critics pondered, "Who would ever pay for TV?" As the Ted Turner slogan goes, "I was cable, when cable wasn't cool." Cable television turned out to be a golden opportunity for growth, challenge and of course money for me. Whether it would be the same for my children is another matter. Do you see what I mean about the pitfuall of trying to duplicate another's life?
That said, there are basic principles I've always tried to follow. They don't sound very fancy when I write them here but to tell you the truth, they have made the difference in my life.
1. I've always trusted in God and sought His guidance.
2. My wife Stephanie is my life partner and best friend. My love and commitment to her is the foundation of everything else.
3.I work hard at work and always do my best.
4. I keep learning and try to never make the same mistake twice.
5. I value my relationships at work, I nuture them and try to be a guy that in his drive for success doesn't become selfish.
6. I think long term, never short term. I don't make a decision today on what is easy, popular or feels good to me or will be accepted by others. I ask myself this question, "Twenty years from now, when I look back at this, will I be pleased with what I've done?"
7. I have fears but I have learned to act on what is right no matter how scared I might be at the time.
8. I try to always be someone who will encourage others and help them look good.
9. Giving to others makes me richer, not poorer and so I welcome opportunities to give of my time, knowledge and money to help others.
10. I never rest on past accomplishments at work. I work each day as though I could get severed tomorrow. So I make the most of every day because I realize that someday when I retire, I want to have no regrets about how I spent my days at work. I want to walk away having done everything I possibly could.
But that's just me.
Buck
(For family and friends, September 17, 2006.)
Suggestions if You Want to be on Television:
If your voice isn't real deep you can develop a deeper speaking voice, that's not a big deal. Take a course or get a coach.
It's a very competitive field but if you are persistent and determined, you will succeed. It comes down to how bad you want it.
Practice, practice, practice. How did you get good at anything else you do? You practiced on a daily basis. Speaking in front of a television camera is a skill that can be developed with practice. Find any opportunity you can to speak in front of groups, model, make appearances and develop your speaking skills.
Check your school out first. Do they have a student television station or a media arts department?
Check with your local cable company and ask if you can volunteer your time to host a program, parade or do interviews on the street. All cable companies are required by law to have Public Access Channels so the public can make their own television shows. They don't advertise this because it is extra work and not a priority to the staff. If the company doesn't have a show you can host, watch other shows, contact the producer and ask if you can be a guest host or even be a guest. It will give you experience and practice speaking on television.
Go to your local television station and ask if you can volunteer as a student reporter, to give them updates on what kids are thinking these days.
Set up with your school to be on a work/study program so you can get credit for learning television production. Get a paid or unpaid intership.
Consider going to the Newhouse School of Broadcasting at Syracuse University which is probably the best school on the East Coast.
Start watching television reporters, anchors and hosts to learn from them. What makes them good?
Get a friend with a camcorder to tape you doing news reports or interviewing your friends. Then critique yourself. Don't beat yourself up but learn from your mistakes.
The above suggestions will help you prepare yourself. Success is when preparation meets opportunity. If you prepare, the opportunity will present itself.
Buck Dopp
November 26, 2005 (For Brittany)
How to do well at Job Interviews

It is against the law for an interviewer to ask you age for an interview and you are under no obligation to reveal yours. Age is really less important than what you have proven you can do in past jobs and what you could provide to your prospective company.

Employers are looking for more than just the required experience and education. They are looking for honesty. Anyone who will be contributing to the company's efforts, products and services must be trustworthy. Interviewers determine honesty by how all the questions are answered by the applicant: do the explantions all fit together? If there are gaps, contradictions and unclear answers, interviewers assume the person is hiding something or may be dishonest and a liar.
Spend some time thinking about how you will describe your work history, experiences, education and personal life to make sure that the narrative you are offering of your life comes across as honest and upfront. If you give them reasons not to trust you in the interview, they won't trust you handling money or people or the company's resources.


We all have aspects of our past that are difficult to package and present to a stranger. If you're not prepared to go into honest detail about an aspect of your life...don't even go there. Don't put it on your resume and never mention it. But there should be no gaps in your history, that will also attract attention.

WHAT WILL YOU DO FOR THE COMPANY IF THEY HIRE YOU?

Decide what qualities and skills you can bring to the position. They will want to know what's in it for them if they hire you. Pepper every answer with the benefits you will provide to the company if they hire you. If you're really loyal to you bosses, say that. What will that loyalty mean to your boss? Maybe one of your goals is always to get your boss promoted and you have examples of how you did it. That kind of thing.

STAY ON MESSAGE

George W. Bush is not eloquent by any means. But one thing he does, he stays on message. He decides what he wants to say and that is the answer to every question, over and over again. President Bush knows what he believes and he repeats it over and over. Define your message. Make yourself three or four bullet points of great one liners. These one liners should illustrate who you are and what you will do for your company. Then go back to them over and over during the interview. When you walk out of the room, what do you want them to be remembering about you?

BE A GOOD LISTENER

Most interviewers seem to make the mistake of doing too much talking themselves. They might be ego centric and think the interview is really about THEM. Whether they are talking too much or not enough....be a good listener. People will always give you the clues to unlocking their interest in you if you will only listen to what they are saying. They will reveal secrets about who THEY really are if you will only pay attention. And remember it's not only what they say...but what they don't say. When it is your turn to talk again, play back those points you heard them make and show how they apply to you. This works like magic.

THINK GOOD THOUGHTS ABOUT THOSE INTERVIEWING YOU

This may sound weird but sometimes an interviewer seems to pick up on any negative thoughts you are having about them during the interview. Maybe your body language or tone is communicating that negativity. Whatever causes this to happen, interviewers can usually tell if the applicant doesn't like them very much. One can feel respect in another person or a lack of it. Don't fake this respect, though. If you don't like the company or the people running it don't waste your time or theirs. But if you can honestly and genuinely get excited and have respect for the company you are wanting to work for, this will be communicated by
your body language, tone of voice and posture.

IT'S NOT WHAT YOU SAY, BUT HOW YOU SAY IT

Speaking of those things, it's not what you say, but how you say it. Look them in the eye but don't stare at them. If you're talking to two people, look at them both equally. Give them a firm handshake but don't squeeze the heck out of them.No cologne or aftershave. Even fragrant odors turn some people off and others are allergic to colognes. You don't want them to remember you as the "guy with too much cologne on." They may not even remember your answers but they will remember how you said them, your tone of voice, how you were
sitting and moving your body. Those things communicate as much as your words. There are no right or wrong answers, the questions fired at you by the interviewer are only to get a glimpse into your soul. So relax, enjoy the experience and be yourself.

FINAL THOUGHTS

Treat the receptionist and every other employee you meet as respectfully as those who are interviewing you. No man is ever completely well dressed, in my opinion, unless his shoes are shined. Avoid jewelry of any kind, especially chains around the necks, bracelets and ear rings.Wedding rings are fine, of course. Always send a thank you note in the mail, thanking
them for their time. This is a basic and always leaves a favorable impression. You could send an email but a written card will make a better impression.

IF YOU DON'T GET THE JOB
"Never give up. Never give up. Never give up." --Winston Churchill

If you don't get the job you should conclude that it probably wasn't the best job for you. Things happen for reasons we don't always know about. The job that is best for you will be the one that is offered to you. You never know by sitting at home thinking about it. You have to try things out and go out on interviews. You never know what the future may hold. The person they hire may not work out and you may have been their second choice so never burn your bridges with companies or with people. My best wishes go with you on your next interview.

--Buck Dopp
Dec.2004 (for Doug B.)
Copyright © 2018 Buck Dopp. All Rights Reserved
Website powered by Network Solutions®